One of my dear friends (also a BM) just had her shower yesterday. I felt soo honored to help her get ready for the shower and help out the MOH any way possible to make this day special for the bride.
Her shower was beautiful! I wish I could have taken photos but my camera was acting up a bit. Once I find a few from some others, I'll post.
In the meantime, I realized her wedding isn't that far away. She's already given me my To-Do list for the day of and so I realized I need a dress that is comfortable, elegant, and easy to run around in. In my search for dresses, I found this: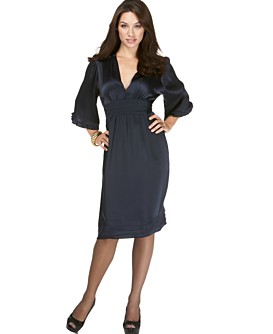 Cielo by Froxx Silk Charmeuse Dress
Orig. $158.00
Was $117.99
Now $70.79
at Macys
What do you think? Is it too much? Too little? Too old looking? Too lame? I need help... Can I get away with wearing this to a elegant (yet it isn't black tie optional) evening sit down dinner/dancing affair in an upscale hotel?