You know when the holiday season comes around you aren't suppose to buy anything for yourself? Well, I did.
I was browsing Macys.com looking for something for the house when I stumbled across this: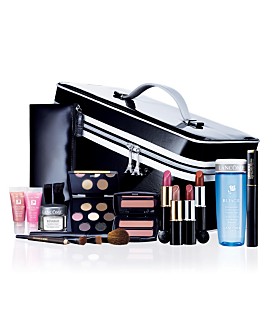 # COLOR DESIGN: Sensational Effects Lipcolor Smooth Hold (Full Size) in Ooh La La! and Sugared Maple
# LE ROUGE ABSOLU: Reshaping & Replenishing LipColour (Full Size) in Champagne and Amande Sucrée
# JUICY TUBES JELLY: Ultra Shiny Lip Gloss in Miracle
# JUICY TUBES SMOOTHIE: Ultra Shiny Lip Gloss in Simmer
# COLOR DESIGN: Sensational Effects Eye Shadow in Filigree, Makeover, Provence, The New Black, Guest List, Chic and Daylight
# BLUSH SUBTIL: Delicate Oil-Free Powder Blush in Cedar Rose and Rose Fresque
# LE CRAYON KHÔL: Eye Pencil in Black Coffee
# DÉFINICILS: High Definition Mascara (Full Size) in Black
# BI-FACIL: Double-Action Eye Makeup Remover (Full Size)
# RÉNERGIE: Double Performance Treatment Anti-Wrinkle Firming
# Cosmetic Case
# 3-Piece Brush Set
# Lancôme Signature Train Case
All for just 48.50$
Source
It wasn't like I went looking for makeup or anything. It really was just on the side of the screen. It found me!!! (and that's the story that I'm sticking to!) I justified this purchase because I needed a new powder and if I was going to buy it, I might as well buy it now so I can get a train case (that I needed) and all the other free (FULL SIZE) goodies! Then more rationalization set in, I also needed to get "random household item" and I order now, it's FREE SHIPPING so I should just order it now... and I did.
I'm patiently waiting (and anxiously jumping for joy in my head) for my little items!
Darn internet making it easy to find things to buy!!!